More Information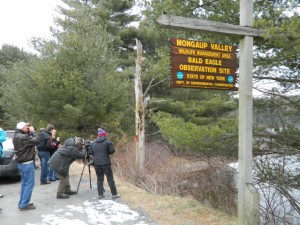 The Mongaup Valley Wildlife Management Area comprises nearly 13,000 acres of land, about half of which are open for public access, so there are a number of other outdoor recreational opportunities. It's a great place to view eagles, and there are prime fishing opportunities. Camping is prohibited here, and watch out for the restricted areas through the winter which are set up to protect wintering bald eagles.
Be sure to check out the Rules and Regulations that are posted at eagle viewing sites. The Mongaup Valley WMA also contains the Mongaup Valley Bird Conservation Area and a series of reservoirs (Rio Reservoir, Mongaup Falls Reservoir and Swinging Bridge Reservoir), along with Mongaup River and creeks. As noted on the NYSDEC map, there are a series of boat launch ramps, car top boat launches, parking areas and eagle viewing sites.
There are no marked hiking trails located within this State Land, but check out the NYS DEC map of the Mongaup Wildlife Management Area.
The Rio Reservoir is a great place to fish as well as an excellent place to spot bald eagles. Gas motors are not allowed here, and ice fishing is prohibited because of the bald eagle population in the winter.
Rio has no marked trails. NOTE: This is a strenuous, nonmarked hike through the woods that may be slippery; attempt at the hiker's own risk.The middle of Rio is bisected by private property. As a consequence, most trails end at the reservoir or cross private property. When the gas-line went through the Rio, the NYSDEC had the gas company build a parking lot with a NYSDEC billboard\kiosk. The parking lot is just past the Eagle Viewing Blind on Mongaup Falls Reservoir, about a mile up on the left. As of yet there are no trails. Game trails can be followed at the hiker's own risk.
About 100 yards from the parking lot is a stream bed. Turn left at the stream: It can be followed through an incredibly beautiful ravine all the way to a magnificent waterfall (the Mongaup Falls).
DIRECTIONS: Mongaup Valley WMA is located in the towns of Forestburgh and Lumberland (also located in the Town of Deerpark, Orange County, NY). The Main Eagle Viewing Pavilion is located on Forestburgh Rd. Glen Spey/Forestburgh, NY. However, for additional parking areas check out the map provided by the NYSDEC. From Monticello, head onto State Route 42 South heading towards Forestburgh for about 9 miles. Then turn right onto County Rd 43/Forestburgh Rd (There is a small white building on the left hand side of the turn) Drive down this road (you will pass the Forestburgh Playhouse). Drive for approximately 2 miles. You will then come across a few different access points.
Reader Interactions