Done hiking? Ready to relax and unwind? Check out the delicious food in Sullivan County restaurants. Stay the night at welcoming inns and hotels—or campsites to spend the night under the stars.  Relax and get a massage, go antiquing, or find a street fair or festival. Have fun exploring!
We've partnered with the Sullivan County Visitors Association to bring you detailed information about everything you need. Food and restaurants, lodging and camping, attractions, activities, clothing and equipment retailers for outdoor recreation, transportation options and more, right at your fingertips.
---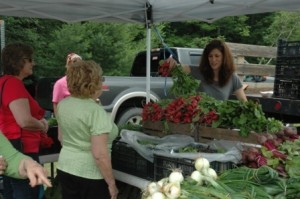 Sullivan County is full of locally owned restaurants. Find casual to formal dining featuring delicious food and drinks. Many restaurants offer fare from local farms and producers.
Grab a quick meal at a diner or pub or enjoy a formal meal overlooking the Delaware.
---
Want the complete outdoor experience? These campgrounds offer options for tent camping, RVs, or cabins. Some are located right on the riverfront or in quiet retreats in the woods. Many also provide access for fishing, boating, or swimming in the river or in nearby lakes.
---

Staying the night? From small bed-and-breakfasts to large resorts and everything in between, Sullivan County has something for everyone–including camping options or cottages on the waterfront.
---
Do you have the right gear to hit the trails or head out on the water? Check out these local retailers to find exactly what you need for a great day outdoors.
---

Sullivan County has tons of other fun outdoor (and indoor!) activities. Take a Delaware River Trip on canoes, rafts, and kayaks, or go horseback riding on a ranch for the day. Learn how maple sugaring operations work, visit an alpaca farm, or spend some time at an area farmer's market or on a farm tour.
---

Looking to try something new? The town of Bethel in Sullivan County was the site of the 1969 Woodstock festival, and you can still go to the Museum at Bethel Woods and the Center for the Arts on the original site.
To learn more about eagles—or even spot some—you might also want to learn more about the Eagle Institute, a Project of the Delaware Highlands Conservancy.
The Apple Pond Farm and Renewable Energy Education Center, the Kadampa Meditation Center, and the Catskill Fly Fishing Center & Museum are all here too. Arts & Culture? We have that too! Check out our local galleries, theaters and museums.
And don't forget about local flea markets, vineyards, and more attractions found year-round throughout the county.
---

Sullivan County has airports that can accommodate private planes as well as domestic and international flights. We also have a variety of car rental services and bus, taxi, and limo services available to make your trip easy.