More Information
DELAWARE RIVER REGION TRAIL
The 57-acre Minisink Battleground Park is located on the site of a Revolutionary War battle, the only one fought in the Upper Delaware Region. Look for the Woodland Trail, Battleground Trail, and the Old Quarry Trail. Picnic areas and an Interpretive Center with informative displays are available to visitors and also has trail maps available. The Woodland Trail features wetlands and a wide variety of wildlife. Pick up the brochure from the Interpretive Center before the start of the trail and follow the guide to identify different types of trees as you walk along. This is a great easy hike for the family. Make a day of it and bring your lunch to eat under the pavilion.
Upper Delaware Take a Hike! Trail
The Old Quarry/Rockshelter Trail is actually two trails. The Old Quarry Trail comes first, with five interpretive stops identified by blue posts. The Rockshelter Trail continues from it, with eight interpretive stops, also identified by blue posts. Be sure to pick up the brochure at the Interpretive Center and follow along to learn about the trees, natural rock formations, an old quarry, and historic roads and stone walls found along the way. Eventually you will come to the Minisink Spring Rockshelter, which was used as much as 4,000 years ago by prehistoric Indians.
The Minisink Battleground Trail features wooded pathways through the historic battleground. Pick up the brochure in the Interpretive center to learn the story of the Battle of Minisink on July 20, 1779 and follow along through the major points of the battle as you hike through this historic park.
The Woodland Trail is a short trail that loops around to the monument.
There is no admission fee. Park hours are between 8AM until dark. All County parks are open from mid-May until mid-October. Phone: (845)-807-0287
To learn more visit these websites: http://minisink.org or http://co.sullivan.ny.us or www.upperdelawarescenicbyway.org
DIRECTIONS: Located off Scenic ByWay Rt 97 on Co Rd 168 in Barryville, NY. When coming from Barryville, follow Rt 97 towards the Roebling Bridge for about 4 miles then turn right onto Co Rd 168. Follow Co Rd 168 for about 1/2 mile. The entrance for the park will be on your left-follow to get to the parking lot.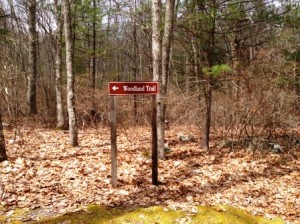 Reader Interactions