Oceanator & The Adventers of The Silver Spacemen
November 16, 2017 @ 8:00 pm

-

November 17, 2017 @ 12:00 pm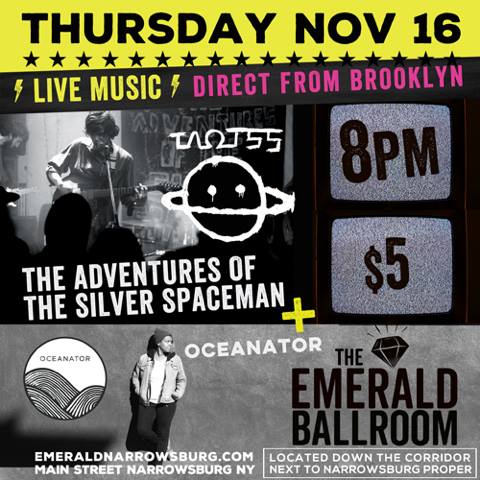 yes, we know it's a 'school night, BUT you will regret not staying up past your bedtime to come out from a night of great music …
Oceanator
Oceanator is the solo endeavor of Brooklyn based musician Elise Okusami. Okusami released her debut EP in February 2017. The EP, recorded at her brother Mike Okusami's Maryland studio, plays to Okusami's folk-pop and rock aesthetics. Stand out tracks include 'Nowhere Nothing' and 'Afternoon' both of which have received praise from publications such as Pitchfork, Impose Magazine, and Heartbreaking Bravery.
"Okusami layers her lovesickness and loneliness over an unexpected backdrop of bubbly 1980s synthpop and crisp percussion." – Pitchfork
https://oceanator.bandcamp.com
TAOTSS(The Adventures of the Silver Spaceman)
The brain child of Zachary James Ellis. The project takes you on an album by album narrative starting in 2011 with a self titled bedroom acoustic record. Evolving against the grain of a trending reverb wash the TAOTSS project grew into something raw, and biting. Through various line-ups and collaborations Zach has now released five albums and toured the Northeastern and western US, France and Spain. In it's present form the four piece psych rock/post punk outfit interweaves sparkling space guitars, bitter sweet bass melodies and a heart heavy back-beat to frame poetry-driven songs which have earned them comparisons to Steve Malkmus and the Jicks, Nick Cave, and a millennial Neil Young. The band seems to manifest the spontaneous and mystical elements of art-making through timeless songs and potent lyrics.