Mystery-Lander's Festival at Landers Rivers Campground
June 8, 2017 @ 5:00 pm

-

June 11, 2017 @ 11:59 pm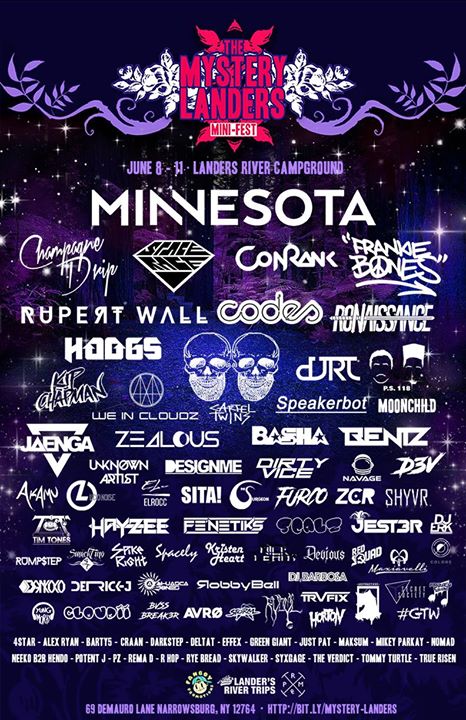 Mystery-Lander's Festival at Lander's Rivers Campground ft.
Minnesota
June 8th – June 11th
http://ticketf.ly/2pGEaUR
https://www.landersfests.com
In 2014, many of us embarked on a journey to Bethel Woods, NY for Mysteryland USA. The historic elements of Woodstock backed by inspriring new-age vibes created an experience like no other. An official off-site camping experience at Landers Rivers Campground sparked the interest of thousands of attendees as a new, unique experience. It was there where amazing memories were made, drawing many of us back year after year. The cancellation of Mysteryland USA this year left an empty spot in our hearts and we couldn't just let the experience at Lander's be gone with the wind. With the hard work of Lander's Management, Philip Montgomery, Jack Schinella, and us here at Fanboy Promotions, we were able to keep what we have worked so hard to build alive!
Minnesota
https://soundcloud.com/minnesota
Minnesota is one of the most innovative and proficient electronic
producers to come out of the West Coast bass music movement. His sound breaks away from the various subgenres of EDM but holds onto origins of dubstep and hip-hop, creating a truly authentic experience for his audience. Early on in his career Minnesota said, "My goal is to make bass heavy dubstep/glitch-hop music that'll get you dancing, but it is not the same old three note transformer step… I try to focus more on the melodic side of dubstep, and hopefully, make quality songwriting a more relevant factor in the genre." For the past four years Minnesota has followed through on his word and designed smooth, melodic, uplifting sounds, which fans have celebrated nationwide.
Champagne Drip
https://soundcloud.com/champagnedrip
Champagne Drip, the newest musical incarnation of Los Angeles-based producer Sam Pool, was born out of a philosophy that innovation springs from inspiration. Pool had carved out a unique place for himself in the bass music community; performing under the moniker of SPL for over 10 years and releasing drum & bass, dubstep, and trap-oriented music on respected labels such as Barcode, Tech Itch, Evol Intent, Sub Human, Rottunn, and SMOG Recordings. SPL's music was fully immersed in sound design, a musical landscape comprised of melodic, dark, and refined touches.
Conrank
https://soundcloud.com/conrank
UK-born and bred DJ and producer Conrank has quickly established himself as one of bass music's most innovative voices. After spending years as a globe-trotting musician, including an 8 year residency in Shanghai, Conrank settled into his new home base in Los Angeles, CA in early 2017. In just a few short years, Conrank has swiftly earned the reputation of tearing down any dancefloor he plays to, without exception; bringing his melodic yet frenetic brand of dubstep, grime, and drum n' bass to stages all across the world.
SPACE RACE
https://soundcloud.com/spaceracedjs
Based out of LA and NYC, Space Race, made up of Matt Brown and Dennis Paramonov, has had its listeners hooked and eager for more with heavy production work and a bass movement set light years away. With support from icons in trap and house music such as: Skrillex, Slushii, 4B, 12th Planet, Adventure Club, Oliver Heldens, Brillz, Cookie Monsta, Mija, and others, the duo is steadily making waves towards 2017 festival gold. On top of a record label, BASSCVLT, Buygore release "Mischief" and heavily supported tracks, "Akira", "Blast", and "Ichiban", this duo is on a winning streak aimed in only one direction, up. Blending a healthy mix of multiple genres, Space Race has built a fan base that isn't married to one sound.
Codes
https://soundcloud.com/codeshouse
With a backbone bred on Hip Hop and Jungle and a foundation in Funk, Codes brings his own twist to the underground side of House. His lengthy catalog mixed with an appreciation for turntablism keeps this producer busy in and out of the studio.
Codes closed out 2016 strong with his second bugged out banger on Psycho Disco, "Bumps". The EP has received massive support from Spotify (Fresh Finds, Fresh Electronic, Hot House, Fresh Finds: Basement) and continues to climb with 500k+ streams and counting. Most recently, Codes unleashed the party rocking "Bad Boy"with renowned label This Ain't Bristol on the Billy Kenny's selection compilation. Codes latest releases have been receiving support from a wide variety of artists like Anna Lunoe, Martin Garrix, Friend Within, Valentino Khan, Sinden, TJR, Wax Motif and Wuki.
His crowd winning balance of sinister and funky sample-flipping productions are evident in remixes alongside A-Trak for disco superstar Cerrone, a release on HedKandi with homie Treasure Fingers and a slew of releases on Slow Roast Records including a single with DMC champ DJ Craze. Additional remixes for labels like Fool's Gold, Ultra, Main Course, SMOG, and a recent remix of ZDS on Psycho Disco, continue to receive buzz. Codes' SoundCloud broke a million plays last year and has non-stop releases slated for 2017.
Frankie Bones
https://soundcloud.com/frankiebones
Born In 1966
Frankie Bones was the original and first DJ coming out of the Brooklyn Underground during the mid 80's with the vision of what was yet to come on the global front of Electronic Dance Music culture. His early mission came in the many releases of Fourth Floor Records and Nugroove Records. In a time when timing meant everything, the buzz of his early works caught the attention of the rapidly growing scenesters in the London Orbital M25 raves during the Summer Of Love in 1988.
Before his recording career kicked off he worked for 4 months at Apexton Records, working at the pressing plant and in A&R for their label, Underworld Records.
Those early "Bonesbreaks" vinyls led Frankie to playing at a rave called "Energy" which had 25,000 people. With the scene already reaching critical mass, Bones had set off a fierce bidding war between XL Recordings and Deconstruction, which led to two albums by Musto & Bones.
The U.K. was very impressed by Frankie's unique Brooklyn style which was a raw-freestylish-bass-in-your-bass-bins-but-electro-bass style that was raw enough to keep the entire scene and industry at bay, waiting for the underground to bubble over. With gigs, remixing and production work pouring in by the truckload, Frankie ventured out into the early European scene playing key breaking parties in France, Holland, Italy, Denmark and Germany. Each country taking note of his style and wanting to license music.
From all the success in Europe, a booking would follow in Los Angeles based strictly on his success in Europe. In fact the L.A. promoters did not understand where the Brooklyn accent was coming from? But the West Coast scene had just started and Frankie held down Bi-Monthly events in London, L.A. and in NYC.
His vision of STORMrave made history. As did the Sonic Groove shop where he sold vinyl to the masses.