Dry Stone Wall Workshop
November 4, 2016 @ 8:00 am

-

November 6, 2016 @ 5:00 pm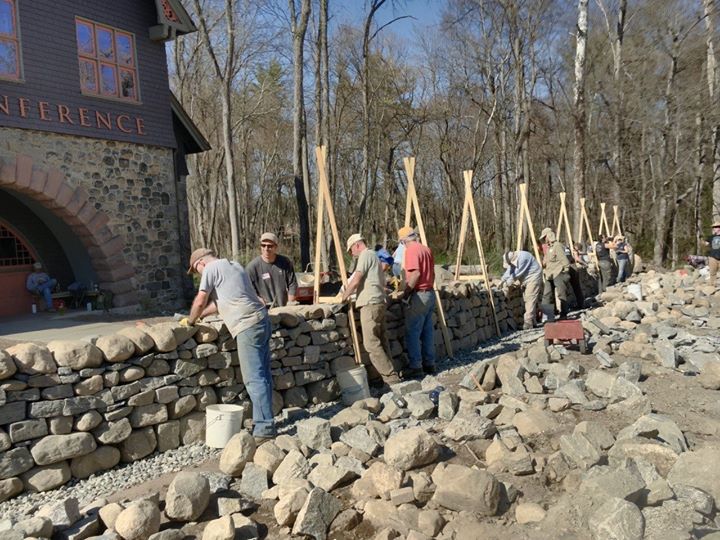 Learn the art and craft of dry stone walling from some of the top instructors in North America this fall!
The Trail Conference is holding a special dry stone walling workshop in partnership with The Stone Trust that will take place at our historic headquarters Nov. 4-6.
This workshop aims to complete a permanent, freestanding wall in front of our offices at the restored Darlington Schoolhouse in Mahwah, N.J. The wall will be built using standard structural practices; the style of work will match the historic dry stone walls and fences of the area.
Homeowners, contractors, and dry stone wall enthusiasts of all skill levels are invited to sign up. Friday's workshop is optional to learn about worksite prep and management. Over the course of the weekend, participants will learn:
How to set up a site for efficient dry stone walling
How to build and set up batter frames and string lines
How to prepare a sturdy foundation for dry stone walls
How to efficiently sort and lay out stone to speed up the building process
Knowledge of the correct basic structural rules to follow when building
Understand the terminology of dry stone walling
Ability to identify and manage stones for maximum value
Ability to identify properly built walls
Know safe construction practices
Our dry stone wall workshops are a collaboration between the Trail Conference and The Stone Trust from Dummerston, Vt. The Stone Trust advocates for the preservation of existing dry stone walls and promotes using the correct structural standards for the construction and restoration of dry stone walls. The instruction for these workshops will be led by three of the top Dry Stone Walling Association of Great Britain (DSWA-GB) Certified Dry Stone Walling Instructors in North America who will be using the creation of a dry stone wall in front of the Schoolhouse as an unparalleled teaching tool in the New York City metro area.
Construction of a freestanding, dry stone wall is an essential requirement in the Trail Conference's restoration and renovation of the historic Darlington Schoolhouse. The wall will run over 160 feet along Ramapo Valley Road and be 3-feet tall. It will be built using a variety of local fieldstone and quarried stone. Neighboring Ramapo College of New Jersey has donated fieldstone, while quarried stone has been donated by Legacy Stoneworks, Inc. / The Hillburn Granite Company, Inc. Over 100 tons of stone will be used to complete the wall.
Licensed landscape architects can receive 7.5 LA CES credit hours for attending the site prep workshop on Friday, and 15 credit hours for the workshop held Saturday and Sunday. Take both for 22.5 credit hours—almost two years' worth in three days!
Please note that this is a specially contracted workshop, therefore neither Trail Conference, nor Stone Trust membership discounts will be given.
Registration is open at thestonetrust.org.