Trails in This Area
More Information
DELAWARE RIVER REGION TRAIL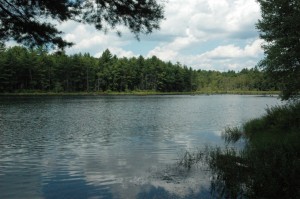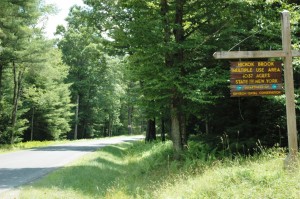 Click on the links below for detailed TRAIL info
Hickok Brook Multiple Use Area is primarily accessed from an easy to find ample parking area located off Barker Road in the Town of Highland.  Camping is available at Hickok Brook MUA as well as a variety of trails, though the markers are difficult to see. There are a variety of roads that lead to campsites — the pull-offs to the right are for camping, while straight ahead is a dead end and left is another dead end with more campsites, marked with yellow DEC markers.
This area is also used by hunters, so if you are hiking during hunting season, be sure to wear bright colors so you are highly visible.
DIRECTIONS: From the Bethel/White Lake Area: Head South on NY-55 for approximately 12 miles (pass through the hamlet of Eldred), then turn left onto Proctor Road. Stay on Proctor Road for app. 1.4 miles, then make a RIGHT onto Barker Rd.  After app. 1/2 mile the entrance will be on your right. The entrance parking area is on the left, but you may drive into the Multiple Use Area (MUA) to get to the different camping locations. There are gates within the MUA, so beware of any designated off-season times, etc.
DIRECTIONS: From the Barryville Area: When on Scenic ByWay 97, take Hillside Road. After app. 1 mile, bear left at the "Y" and continue on Haring Rd for app. 1.5 miles. At app. 1 mile Haring Rd turns into Barker Rd. Follow Barker Rd. for app. 1/2 miles. The entrance will be on your left.
Reader Interactions