Smithsonian Museum Day Live
September 23, 2017 @ 10:00 am

-

5:00 pm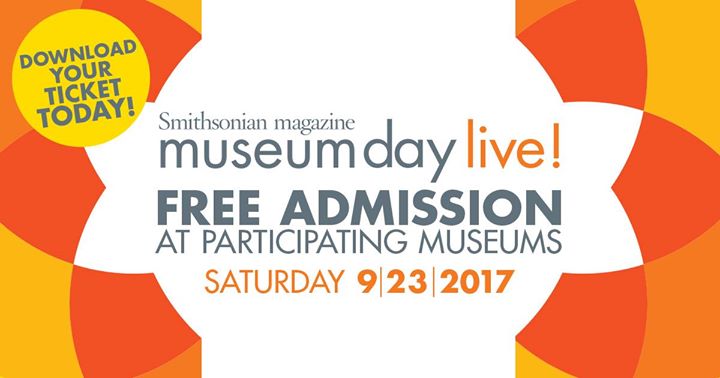 Free Admission To The Museum at Bethel Woods
The Museum at Bethel Woods will open its door free of charge on Saturday, September 23 as part of Smithsonian magazine's eleventh annual Museum Day Live! A nationwide event, Museum Day Live! offers free admission to visitors presenting a Museum Day Live! ticket at a participating museum or cultural institution.
Inclusive by design, the event represents Smithsonian's commitment to make learning and the spread of knowledge accessible to everyone. Last year's event drew over 200,000 participants, and this year's event is expected to attract more museum-goers than ever before.
The Museum Day Live! ticket is available for download at Smithsonian.com/museumday. Visitors who present the Museum Day Live! ticket will gain free entrance for two at participating venues, including The Museum at Bethel Woods, on September 23, 2017. One ticket per household is permitted. For more information about Museum Day Live! 2017 and a full list of participating museums and cultural institutions, please visit Smithsonian.com/museumday.
In addition to its Main Exhibit, The Museum presents, Love For Sale: The Commercialization of the Counterculture. This exhibit will examine the commercialization of the Counterculture. Drawn from the extensive popular culture collection of author and collector Michael Stern, LOVE FOR SALE examines the pervasive influence of the Counterculture on American popular culture and commerce. Using a 1970 suburban home as a backdrop, the exhibition shows how "peace, love, and free expression" became commonplace in living rooms, dining rooms, and children's rooms across America and how the Counterculture was trivialized and marginalized in the process. Special sections of the exhibition feature everyday objects and uncommon artifacts of the commercialization of The Beatles, the commercial rise of drug culture, and the retail displays that helped create the hard sell. A counter-culture of people who rejected consumerism and the conformity of "The Establishment" slowly took root in post-war America. By the early 1960s, Beat authors and folk musicians represented a growing, but still largely underground, movement. It wasn't until the 1967 "Summer of Love" that the movement fully asserted itself in the public mind, as "hippies" danced, and called for "love, not war." The Counterculture was now everywhere, and Madison Avenue embraced the slogans, motifs, and attitudes of the movement to sell cars, soft drinks, fashion, and lifestyles to Main Street. What had started as a turning away from consumerism became one of its biggest sales campaigns.