Every Brilliant Thing
May 1, 2018 @ 7:00 pm

-

8:45 pm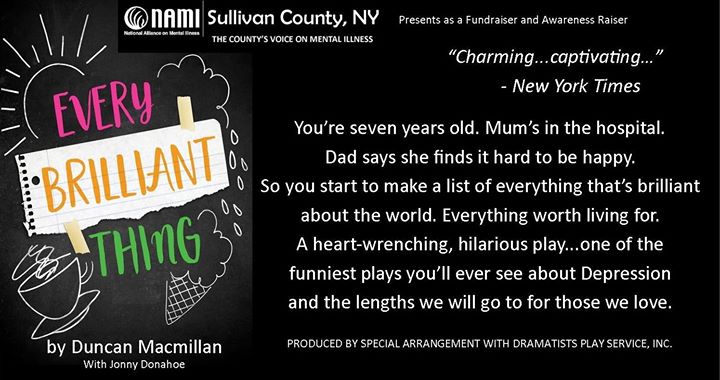 We are delighted to kick off May as Mental Health Month with a performance of this powerful, funny, poignant piece of theatre.
Duncan Macmillan's "Every Brilliant Thing"
has been performed around the world
and makes its Sullivan County debut as a
fundraiser and awareness raiser for
NAMI Sullivan County, NY
Tuesday, May 1st – 7:00 pm
Bethel Woods Center for the Arts – EVENT GALLERY
General Admission $20
Light Refreshments Included
Tickets will be available at the door, but reservations are recommended. Phone (845) 794-1029.
NOT RECOMMENDED FOR CHILDREN UNDER THE AGE OF 16
Directed and Performed by Lori Schneider,
Executive Director of NAMI Sullivan County, NY and also
an award-winning local director and actress.
A funny and moving play, "Every Brilliant Thing" by Duncan Macmillan with Jonny Donahoe is a powerful piece of theatre about Depression and the lengths we will go to for those we love. After being told that her Mum cn'at think of anything worth living for, a little girl begins a list of everything brilliant about the world; everything worth living for. At seven years old, her list includes things like ice cream, being allowed to stay up past your bedtime and things with stripes. As the little girl grows up, the entries mature along with her and as the list grows, she learns the deep significance it has on her own life.
Come out, support NAMI Sullivan County, NY and experience an evening of theatre you won't soon forget!