CFR at Downtown Barn
August 4, 2017 @ 8:00 pm

-

11:00 pm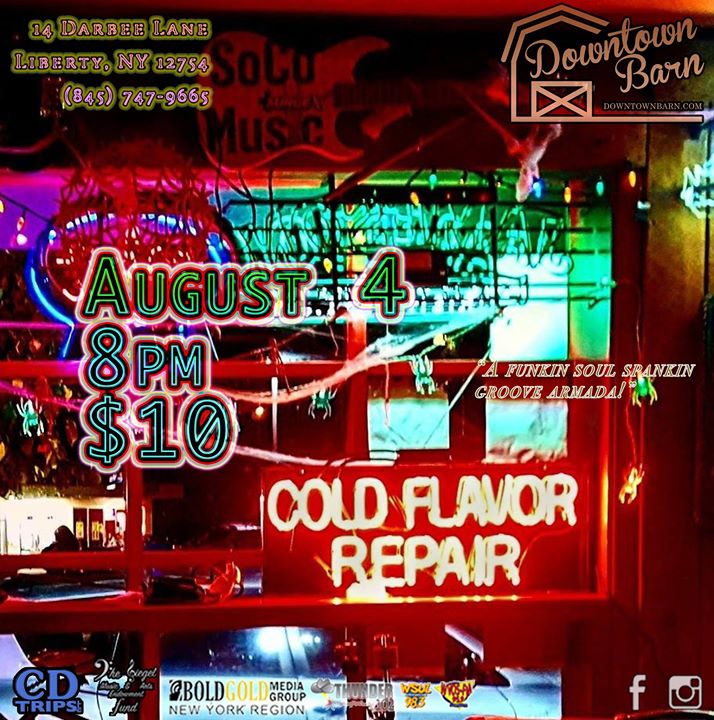 "The Brooklofornia Sound" of NYC's own Cold Flavor Repair (CFR) was hatched in 2002 when keyboardist/vocalist Andy Gladding hooked up with the rhythm section of Brad Kelly (drums) and Steven Camarillo (bass) to meld the smooth west coast sounds they grew up on with the graffiti-painted Brooklyn grit of their post-collegiate surroundings. The band quickly populated their song universe with a darkly comical cast of assorted miscreants, insane housewives, hippies on drugs, faux gangsters, hard-luck hustlers and bad-luck paranoids. Taking a stoned
riff on an old Public Enemy song ("Cold Lampin' with Flavor") for a name, a funky batch of songs detailing the various travails of these outsiders were created and "Brooklofornia" was born.
Armed with these tunes (along with a slew of interesting covers), CFR took their game far and wide, performing on stages from New York to California and beyond. Since 2002, the band has shared billings with artists ranging from Hot Tuna to Chris Barron (Spin Doctors), Aaron Lewis (Staind) and even New York Yankee great (and jazz guitarist) Bernie Williams (with Cheli Minucci and Special EFX) at the 3,500 -seat Hammerstein Ballroom in New York City. In 2009, the band's song "Big Wayne" was featured on a "Relix Magazine" CD sampler, along with tracks by the Black Crowes, the Decemberists and several other top-tier artists.
More recently (2010), CFR traveled to New Orleans for a marathon all-night set following Jazz Fest, performing at a club in the city's French Quarter from 2 until 6AM… without stopping. Needless to say, this is a band that LOVES to play.