Call For Entries: Hiker, Who Are You?
November 14, 2017 @ 12:00 pm

-

November 28, 2017 @ 12:00 pm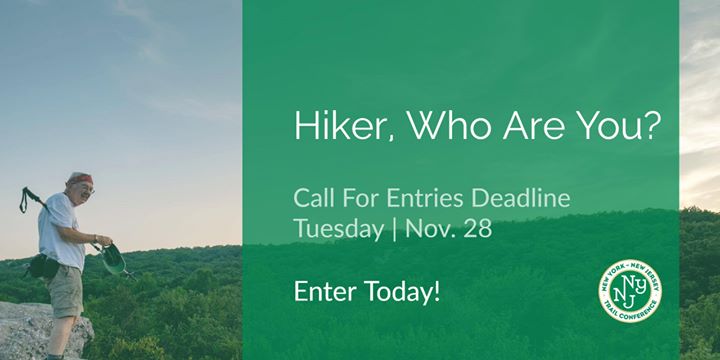 The New York-New Jersey Trail Conference invites trail enthusiasts to share something about their connection to hiking. A group show exhibition, "Hiker, Who Are You?" seeks to present trail hikers as artistic portraits. Works in all two-dimensional media will be considered, such as selfies, group portraits, paintings and everything in between. In addition, the exhibition seeks to reveal some of your hiking biography, so please include information about your hiking experiences by completing the provided "Portrait Profile" when submitting.
Submit your adventures today!: bit.ly/tc-hikerwho17
Trail Conference members may submit digital images of up to three portraits for an entry fee of $15. Not a member? Join the Trail Conference with a contribution of $40 ($35 for seniors) and we will waive your entry fee for this exhibition. Membership helps support the Trail Conference and its work and programs, and will entitle you to all the benefits of membership, including discounts at our Trail Store and our Retail Partners in the region.
Non-members may submit up to three works for $25. Submissions for this group art exhibition will be accepted September 1 to November 28, 2017.
Submission Requirements
The registration email you receive upon payment will include the website address where you will submit your works digitally. Complete the entry form and the "Portrait Profile." Maximum digital file size accepted is 10mb. Acceptable files for digital artwork images are: jpg. and pdf.
Upon Acceptance
Artists will be notified of their acceptance on or around December 5, 2017. Works accepted for exhibition must be framed and ready for hanging by the receiving date, January 2, 2018. Our gallery system is most compatible for artworks with a strap hanger and wire setup. Artwork must be delivered to the Trail Conference for hanging. The Trail Conference is not able to receive and store shipped artwork. Accepted works will be on view to the public at the New York-New Jersey Trail Conference in the historic Darlington Schoolhouse Gallery in the Main Hall, January 7 to March 5, 2018.
Exhibited works may be offered for sale at the Trail Conference. A signed release is required for exhibition. Entry Fees and 20% of any sold items will be used for the works and programs of the New York-New Jersey Trail Conference. The Trail Conference may request photographic reproduction use of artwork(s) in public service communication for this event.