Babes Ride Out East Coast 3
June 1, 2018 @ 12:00 pm

-

June 3, 2018 @ 11:00 am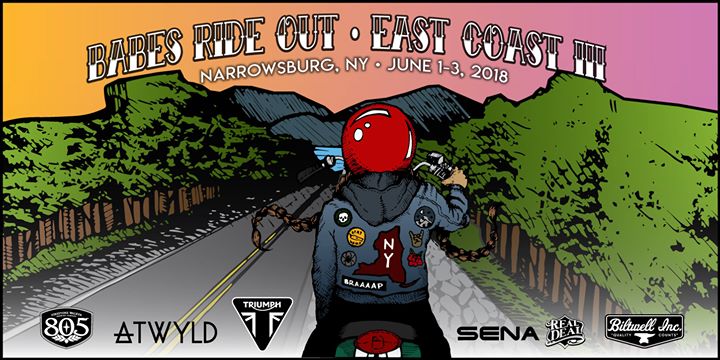 Now in its 3rd year we are excited to up the ante and make Babes Ride Out East Coast 3 one for the records. This 3 day 2 nights riding event and campout takes you on some of the most beautiful routes in the lower Catskills. If you are ready to ride some green roller coasters and camp along the Delaware River in the beautiful town of Narrowsburg, read on!
Please read all FAQ's below before purchasing any tickets as all tickets are NON REFUNDABLE but you can transfer your ticket to another guest ONLY when tickets are still on sale. After ticket sales end, you will not be able to transfer. Scroll down and please read FAQ on how to transfer tickets.
Ticket price includes:
3 days and 2 nights of tent camping along the beautiful Delaware River
Real bathrooms and hot showers
Unlimited water to fill up your canteen
1 raffle ticket to the always amazing Moto F.A.M raffle (option to buy more for $1 each)
2018 event patch
Karaoke contest (start paracticing now)
Slow Low welcoming party Friday night
80's Cover band Sat night (seriously)
Motorcycle games with prizes galore
Access to the Real Deal Workshop hosted by Jessi Combs
Bonfires each night
Fireworks show Sat night hosted the NYC Fire Department. You are not allowed to bring your own.
Light night campfire sing alongs hosted by surprise guest
FREE 805 beer until it runs out each night (and it probably will, east coast ladies can drink)
Maps of riding route options through the lower Catskills
Amazing structure for inclement weather (event goes on rain or shine but you'll stay dry)
24 hour security & staff
Roadside assistance via our friends at Russ Brown Motorcycle Attorneys
Best time of your moto lovin' life connecting with new and old friends!
Brought to you by Biltwell, Triumph Motorcycles, ATWYLD , SENA, I am the Real Deal, and 805 Beer
FAQs
Make sure to check out our FAQ for all Babes Ride Out events by clicking HERE
What ticket do I need to purchase?! What are my driving options?
Every single lady must have either a MOTORCYCLIST or NON MOTORCYCLIST ticket to the event. If you are trailering or driving a car, the driver ALSO needs to pick up CAR PASS. We cannot accomodate RVS or Toyhaulers at this time. Tickets to the event must be purchased in advance. If you end up having to drive, there will be car passes only available at the gate for purchase (cash only). If you are a passenger on a bike or in a car, you need a NON Motorcyclist ticket only. We repeat: no tickets to the event will be sold at the gate, only parking passes.
I am only coming for 1 night, do I get a discount?
Sorry! All tickets are weekend tickets.
Do I get a specific camping spot assigned to me?
No spots are pre-assigned but you are guaranteed a space. The camp area is first come, first serve. There is plenty of amazing spots for everyone. Car campers will be in a separate area. We have rented the entire site for you to enjoy! There are tons of trees and lean-to's on the property and we are right on the Delaware River.
What is up with food and water?
We will have food trucks on site and there is a camp store that is fully stocked! Feel free to bring your own coolers with food, water, booze etc. The WIFI doesn't work so bring cash (ATMS are in town but not on site). There are grocery stores / restaurants etc. in town less than half a mile away if you have special dietary needs. Gas stations are within 1 mile and a liquor store within walking distance. Google the area and see what is available.
WUT! Tickets went up a few bucks! What gives?
The amount of $ it takes to bring in all the things to make this event worthy of your time, keep it safe, and legal within the great state of NY is expensive and does increase sometimes due to the economy. The site is also very expensive due to all of the ammenities and incredible location. You can rest assured that all ticket funds go back into the event's production and this year will be even better than last!
I want to shoot, take video, do a social media takeover for this event for a brand, magazine, online editorial, etc Do I need permission?
We'd love to hear more! Babes Ride Out is a private event and we do the best we can not to distract our guests so they can have the best time possible. If you want to shoot the event in any way for a media source, a brand, or other non-personal use, please email press@babesrideout.com for permission as no commercial photography or video of any kind is allowed unless approved by BRO. Images for your own use are 100% awesome and appreciated! No need to ask if it's for yourself and/or personal social media, we only ask that you be respectful to the other attendees 🙂
How do I connect with other ladies to ride out?
Post away in our Babes Ride Out East Coast 3 Facebook event page.
What the heck do I bring?
No stress! We are putting together a super rad gear guide. Stay tuned as this will be emailed to you and posted on our social, website, etc.
Am I part of the 250 registered motorcyclists? When will I know? What if I don't show up?
We kindly ask anyone who is wondering to please refrain from emailing in asking as they will know when they arrive to the event. These bags are a gift from our sponsors to reward those who commit to coming and arrive on their own motorcycle. If you do not show up, the bag goes to someone who does at the end of the event
Can I bring my boyfriend or husband?
No, this is a ladies only event. Please check chopcult.com for all co/ed events <3
Can I bring my kids and pets?
Nope, the event is not kid / pet friendly 🙁
Are there ID requirements or an age limit to enter the event?
Must be 21+ to attend and have valid ID to drink
What can't I bring to the event?
Weapons, signage, fireworks, pets, kids, a bad attitude, hand-outs for a brand or marketing materials of any kind.
Do I have to bring my printed ticket to the event?
No ma'am! Just show up, you'll be on the list
What is the refund policy?
NO REFUNDS. Sorry, please do not ask. We have to pay for you whether you show up or not. All funds go back into the event so if you don't make it, know you made the event even better with your donation.
How do I transfer my ticket to someone else?
You can transfer your ticket to another guest but you are solely responsible for doing so. Log in to your Eventbrite and click on your tickets. You will see options to edit your ticket information. You must type in the person's first name, last name, and email address and click to save and send new confirmation. If your buddy doesn't get the confirmation, they won't be on the list so please follow up and ensure they got the transfer.
****No transfers can be made after ticket sales have ended****
The name on the registration/ticket doesn't match the attendee. Is that okay?
Your ticket must match your ID. If someone bought your ticket for you and did not put it in your name, you must show up together so the ticket holder can collect both tickets.