Check out these links to other hiking and outdoor resources, and info for Sullivan County:
American Hiking Society: The AHS is a national nonprofit organization dedicated to promoting hiking and to establishing, protecting and maintaining foot trails in America.
Basha Kill Area Association: The BKAA works with local government, the NYS DEC, and other environmental groups to safeguard the region's valuable resources.
Cornell Cooperative Extension of Sullivan County: The CCE System enables people to improve their lives and communities through partnerships that put experience and research knowledge to work.
Delaware River Greenway Partnership: The DRGP is a non-profit organization that works to bring individuals, communities, businesses, recreational users and all levels of government together to promote and protect a continuous corridor of natural and cultural resources along the Delaware River and its tributaries.
Delaware River Water Trail: Nonprofit environmental and recreational organizations, local residents and businesses, and federal, state and local governments have partnered to guide and enhance river access opportunities through the development of a water trail system. This system includes uniform signage, maps, a trail guide and an interactive website.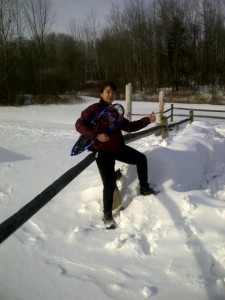 National Park Service: Upper Delaware: The Upper Delaware Scenic and Recreational River is a component of the National Wild and Scenic Rivers System under the stewardship of the National Park Service.
New York-New Jersey Trail Conference: The New York-New Jersey Trail Conference partners with parks and recruits volunteers to create, protect, and promote more than 1,800 miles of public trails.
New York State Department of Environmental Conservation (DEC): The DEC works to protect New York State's environment and manage its natural resources.
Renegades Mountain Bike Club: The Renegades bike club bikes trails in southern NY, and works with the Town of Liberty to create a maintain trails at Walnut Mountain Park.
Script Trails Delaware County: The Prescription Trails, or 'Script Trails, initiative in Delaware County focuses on increasing the number of steps a person takes. Many partners in the County are working together to encourage hiking for health–with local physicians even writing "walking prescriptions."
Sullivan County Chamber of Commerce: The SC Chamber of Commerce promotes, supports and advocates on behalf of the Sullivan County business community.
Sullivan County Historical Society: The Sullivan County Historical Society, Inc, was established on September 18, 1886 in order to preserve the history of Sullivan County for the enlightenment of future generations.
Sullivan County Community College: SUNY Sullivan is a small two-year community college that's a part of the State University of New York system, located on a 405-acre campus in the Catskill Mountains.
Sullivan Renaissance: Sullivan Renaissance is a beautification and community development program principally funded by the Gerry Foundation. Partial funding for the TrailKeeper project was provided by an Environmental Initiatives grant from Sullivan Renaissance.
Ten Mile River Scout Museum: This museum is dedicated to the history of the Ten Mile River Scout Camps In Narrowsburg. The Tusten Mountain Trail is located on Ten Mile River Scout Camp land. It features exhibits on Native American history, lumbering in the 1800s, and other interesting history of the area.
Upper Delaware Council: The UDC is a formal partnership of local, state, and federal governments and agencies which have joined together to manage the Upper Delaware Scenic and Recreational River. The TrailKeeeper project was assisted by a grant from the Upper Delaware Council.
Upper Delaware Scenic Byway: The Upper Delaware Scenic Byway, New York State Route 97 traverses the western borders of Orange, Sullivan and Delaware Counties, New York along a 70 mile stretch of the Delaware River. This unique highway connects the rafting and bluestone village of Hancock in Delaware County to the railroad city of Port Jervis in Orange County.